St. Alban R.C. Church
Bad Krozingen, Germany
Reconstructed in the late 1900s
Photo by John H. Bliley
---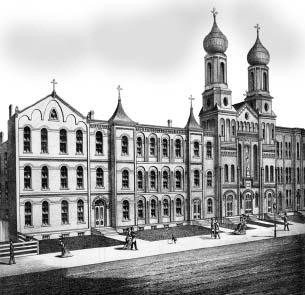 St. Mary's R.C. Church
West 9th Street, Erie, Pennsylvania, Circa 1876
The Bleile family in Krozingen, Germany were Roman Catholics who attended services at Saint Alban's Church a block away from home. When they arrived in Erie, County, Pennsylvania, in 1834 there was no Catholic church for them to attend.
During the influx of German and Irish Catholic immigrants in the early 19th Century, Erie was part of the Diocese of Philadelphia, which covered all of Pennsylvania and part of New Jersey. Western Pennsylvania was a wilderness and overland travel was on foot or horseback on paths through the forest.
It is said that the first Catholic Mass in Erie was celebrated on Easter Sunday, 1827 by a visiting priest in the ballroom of the Washington Hotel on the corner of Second and French Streets. For the next several years a missionary priest or the Bishop would visit the area once or twice a year.
In 1837 the first resident priest was assigned to the Erie area. He built a combination rectory and chapel on the corner of Fourth and German streets. The parish priest served not only the Catholic community of Erie, but three additional counties: Crawford, Venango and Warren.
The German-speaking Catholic community built their own church, Saint Mary's, in 1839 on Ninth between Parade and German streets. The Bishop blessed the church and this became the first Roman Catholic Church in Erie. The Catholic Diocese of Pittsburgh was created in 1843 and covered all of western Pennsylvania; in 1853, the northern 13 counties became the Diocese of Erie. The second Catholic church, Saint Patrick's, was built by the Irish Catholics and blessed in 1849.
When Charles and Mary Jane took their solemn vows of matrimony on June, 8, 1847, the only church available was St. Mary's in Erie. (Read Mary Jane's memoirs for wedding details.) St. Boniface church at the intersection of Kuhl and Wattsburg roads, and near the Bliley homestead, was not established until 1857. All of the German Catholics in the greater Erie area attended St. Mary's church until their own local parishes were established.
History contributed by Carl Wolf