|| FAMILY HISTORY: HOME, SITE MAP, LINKS || BLILEY NETWORK: SITE MAP , SEARCH ||
ERIE CEMETERY
Chestnut Street at West 26th Street, City of Erie, Pennsylvania, U.S.A.
Photos and commentary by Charles A. Bliley, October 2002
Contents
---

DESCRIPTION OF THE CEMETERY
The Erie Cemetery is a one of the oldest and largest cemetery in the City of Erie. I currently has nearly 50,000 internments in a 14 city-block area and still growing. It is located between West 26th Street and West 19th Street, with its main entrance on Chestnut Street.
---

BLILEY FAMILY PLOT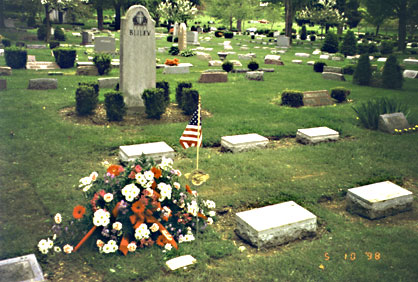 The Bliley Family plot is located in the East side of the center section of the Cemetery.
Top Row (L-R)
Frank Dawson Bliley
B: 4/29/1906
D: 5/17/1955
Frank Anderson Bliley
B: 3/13/1865
D: 2/14/1946
(Husband of Lula Edna Dawson Bliley)
Lula Edna Dawson Bliley
B: 8/6/1875
D: 3/16/1945
(Wife of Frank Anderson Bliley)
Front Row (L-R):
Lawrence Francis Kaiser
(Second husband of Isabelle Rosenberg Bliley)
B: 11/8/1914
D: 5/7/1998
Photo taken several days after his internment.
Isabelle Marie Rosenberg Bliley Kaiser
(Wife of Frank Dawson Bliley and later of Lawrence Kaiser)
B: 11/15/1914
D: 3/15/1997
Josephine Marie Bliley Oldham
B: 5/19/1910
D: 10/7/1970
George Malcolm ("Mal") Oldham
(Husband of Josephine M. Bliley)
B: 5/3/1904
D: 11/28/1972
Headstone to the right of Josephine Oldham; just out of this view.
---

ROSENBERG-KENDALL FAMILY PLOT
The Rosenberg-Kendall is about 60 feet West of the Bliley Family plot. The plot stone is between the two bushes in the center of the photo. These are relatives from my mother's side of the family. Click on the photo icon for a close-up of the headstones. Typically, 80 kilobytes in size.

Rear Row (L-R):
Ralph A. Rosenberg
1891-1973
Anna J. Rosenberg
1891-1962
Ralph Carl Rosenberg
1919-1945
Front Row (L-R):
Clyde E. Kendall
1903-1976
Agnes R. Kendall
1911-1985
---
Cemeteries with other family burials:
Gospel Hill Cemetery & Index, Harborcreek, PA-- Bonnell, Edson, and Coover
St. Boniface Cemetery, Erie, PA -- Bliley, Josten, Egg, and McConnell
Pine Grove Cemetery, Corry, PA -- Dawson, Hall, and Pound
Trinity Cemetery, Erie, PA -- Bliley and Blila
---
This site and associated images are Copyright 2002, by Charles A. Bliley, Webster, NY, U.S.A.
Permission granted for use in personal genealogy work and non-profit distribution.
|| RETURN TO HOME ||