|| DARIUS MEAD STORY || FAMILY HISTORY: HOME, SITE MAP, LINKS || BLILEY NETWORK: SITE MAP , SEARCH ||
Brief Biography of Rush M. Blodget, Sr.
Author of Darius Mead Story
By Rush Maxwell Blodget, Junior
November 2003
---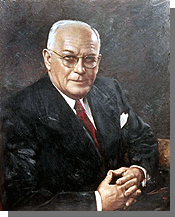 Rush M. Blodget, Sr., was born on December 3, 1881 in a house on the bank of the Brokenstraw Creek in Youngsville, Pennsylvania. During his life he spoke nostalgically and often of the beautiful Brokenstraw Creek.
His father, Spencer Langdon Blodget, who had resigned from the U.S. Naval Academy at Annapolis after completing his second year (he didn't flunk out) took his young family of Claude, Percy, and Rush to Bakersfield, California where two more sons, Ward and Lewis, and a daughter, Marian, were born. Spencer Langdon Blodget went to work in a drugstore and after several years bought the store and was later licensed as a pharmacist when a state pharmacy law was enacted. A younger sister and brother died in infancy and his mother died in childbirth with Lewis, the last born son.
The sons went to college, in turn working to send money to the others. Claude, Percy, Rush, and Ward attended Stanford University which at that time had no tuition or student body fees. Rush Blodget graduated from the Stanford Law School in 1907 following which he located in Southern California. He was engaged for a time in the general practice of law; later he became vice-president and general counsel for the George F. Getty Oil Company (predecessor to the Getty Oil Company) and after the death of George F. Getty became general manager during a period when J. Paul Getty's was living in Europe. He left the Getty Company in 1932 to become executive vice president and manager of an oil industry trade association where he remained until his retirement in 1952.
Rush M. Blodget had a son, Rush M. Blodget, Jr., by his first wife, Beryl French, who died in 1926. He had three more sons, Arba, Claude, and David, by his second wife, Ruth Deeds, who died in 1932 when David, the youngest, was a year old. Rush, Arba, and Claude live in Northern California and David lives in the state of Washington.
Mr. Blodget's lifetime hobbies were history and genealogy. He obtained a great deal of his genealogical data from older surviving relatives who passed on to him old family letters and photos.
Rush Blodget's great grandmother was Elizabeth Mead who married Philo Guernsey Belnap, a river rafter, whose son, Archimedes Madison Belnap, married Ellen Fletcher, whose daughter Carra Myrtle Belnap, was the mother of Rush M. Blodget.
The "Drama of Darius Mead" was prepared by him in 1937 for his cousin, Leota Whitehill Day, for the occasion of the Mead Family Reunion.
---
An Acknowledgement
Thanks to Rush Junior for taking the time to prepare this biography of his father. When this biography was written, Rush Junior was 85 years old and has continued his father's work by converting as much as is practical into electronic format. The portrait shown is of Rush Senior at the time of his retirement.
Chuck Bliley
11/26/03
|| DARIUS MEAD STORY || FAMILY HISTORY: HOME, SITE MAP, LINKS || BLILEY NETWORK: SITE MAP , SEARCH ||