| | | |
| --- | --- | --- |
| | | 1943 Army-Navy "E" Award |
Contents
---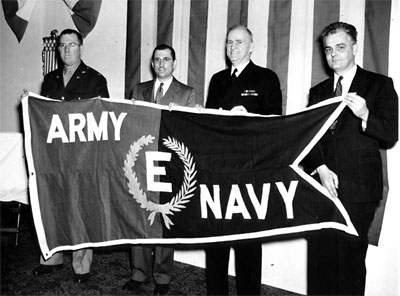 Left to Right:
Colonel J. D. O'Connell, Office of Chief Signal Officer, U.S. Signal Corps.
Frank Dawson Bliley, President BEC
Commander Ralph G. Walling, U.S. Navy (Retired)
Charles Collman, Vice President BEC

High-Resolution Version (72 dpi/56K)
---

Background Story
The Bliley Electric Company and its sister organization, the Bliley Manufacturing Company, received a total of three Army-Navy "E" Awards during World War II. The awards were given to manufacturing organizations that achieve high levels of production without sacrificing quality. These awards were the highest recognition civilian "soldiers of production" collectively can receive. Each organization received a flag for the company's flag pole, and certificates and pins for each and every employee at a public ceremony.
This photo was used in the local newspapers and in public relations articles such as found in QST magazine. Below is a clipping from a January 1943 QST article that profiles a dozen promenent companies that converted from production of products for the radio amateur to military communications equipment.
---

Extract from QST Magazine
From QST Magazine, January 1944:
By both alphabetical and general precedence, the Bliley Electric Co. is an excellent example of a supplier of a critical wartime need whose prewar market was chiefly the amateur field. Founded as an experimental venture by F. Dawson Bliley, W8GU, in 1928, Bliley began manufacturing quartz crystals solely for amateur use as a oneman organization located in the basement of W8GU's residence.
As the reputation of Bliley products achieved increasing stature among amateurs, commercial companies naturally became interested. Despite the depression the company expanded rapidly, and soon became a leader in its field. Up to the outbreak of war, however, crystals for amateur applications represented the bulk of its production.
When war came production requirements expanded greatly. Plant facilities and employees multiplied overnight. Manufacturing processes were altered to enable the replacement of skilled male technicians with unskilled female workers, who now comprise approximately 88 per cent of Bliley employees. With crystals a critical military bottleneck, the government initiated a program for the construction of a new plant devoted solely to the manufacture of military crystals. This new plant, known as the Bliley Mfg. Corp., is now completed and in full operation.
For all this the experience gained in manufacturing amateur crystals was the nucleus and the background . F. A. Lennberg, W8CQQ, director of industrial relations [HR] for Bliley, says: "Basically there is little difference between military and amateur production. Naturally, higher-speed methods had to be developed and many techniques altered, but the fact remains that the experience and equipment which we had used in connection with amateur products was converted directly to wartime usage."